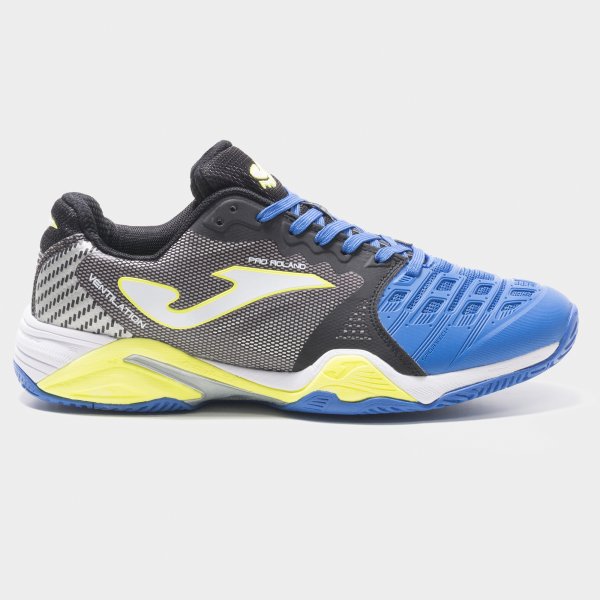 T.PROLAW-804
T.PRO ROLAND 804 ROYAL ALL COURT
Designed for extremely demanding clay tennis players. Developed for top tier competition and intense training.
Approx weight: 345 gr.
Its upper is manufactured in microfiber and nylon. Towards the front it has abrasion-resistant TPU to withstand court friction. VTS ventilation system allowing for greater airflow within the shoe, keeping foot temperature constant. All these materials are light but tough.
Also includes the JOMA SPORTECH injected rubber system avoiding seams and other rigid materials, thus creating a more comfortable structure, with greater flexibility and an improved fit to the foot. Ankle reinforcement with the FIX COUNTER system for greater grip, protection and comfort thanks to its ergonomic shape.
Pre-shaped, natural EVA+ insole adjusts to the shape of the foot, contributing to cushioning by absorbing foot strike. The insole is joined to the upper using GLOVE SYSTEM technology whereby both pieces are sewn together flat, without prominent seams, retaining the rounded contours of the foot.
The midsole is made up of three parts, the first of soft Phylon occupying the entire base of the sole providing cushioning. There is a second, harder, Phylon section extending up to the toecap, favouring stability when making lateral movements and, finally, a PVC segment placed towards the centre for greater sole rigidity when moving.
The sole is heavy-duty, hard-wearing, abrasion-resistant rubber, aimed at extending the life of the shoe. It uses the ROTATION system, to enhance and assist on court movements.

It doesn't matter what you ask of it, the Pro-Roland shoe always delivers.